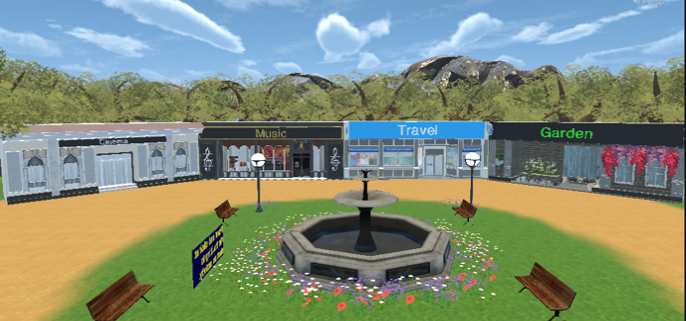 Social VR and Dementia
Being socially connected is an essential contributor to living well with dementia. However, people with dementia are at increased risk of social isolation, loneliness and disconnectedness. Social virtual reality (VR) has gained significant attention in recent years to address social health outcomes for this population. Social VR enables two or more people to be simultaneously in the same virtual world and focuses on their social interaction and engagements. However, this remains under-researched, with limited applications designed with and for people living with dementia1. My PhD project involved co-designing a social VR application to enrich the social connectedness of people with dementia and their support person. This took place over four phases from October 2021 to April 2023. The first phase involved designing and evaluating a VR technology probe, which enabled people with dementia and their support person to understand the fundamental VR interactions1. Phase two explored their lived experiences of social connectedness, its barriers and facilitators, and VR's potential role in promoting or maintaining same. Following this, online workshops were completed to identify design preferences for inclusion in the application. These preferences included avatar appearance, shared activities, and the practical means of promoting social connectedness within the virtual world. A game developer implemented these design preferences into the application, and the final prototype was evaluated earlier this year. The VR prototype consisted of a forested area which led to a town square with various storefronts. Each storefront hosted a different shared activity, including music, cinema, gardening, carnival games and 360-degree travel videos (see Figures 1 and 2).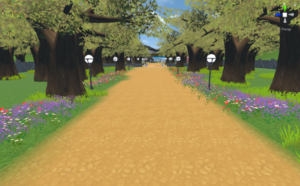 Figure 1. The forested area.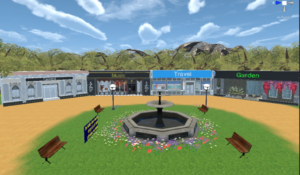 Figure 2. The town square and storefronts host shared activities.
Key findings
Social VR has gained traction in dementia care to enrich the social connectedness of people with dementia. Our research demonstrated that the application was usable, feasible and acceptable for this population. Some key messages from our work are as follows:
Social VR is a promising technology to promote or maintain the social connectedness of people with dementia. It provides a sense of fun between people with dementia and their support person. 

The immersive nature of social VR provides protected time between people with dementia and their support person, away from the business of daily life. 

People with dementia must be supported to use VR through person-centred assistance and graded activity levels aligned with everyone's needs.

Social VR applications must account for the progressive nature of dementia and adapt to people living with dementia's functional changes over time. 

Future work is needed to understand the effectiveness of VR to enrich social connectedness over an extended period of use. 
Moving from academic outputs to considering social impact
Reflecting on this work, it is essential to consider its social impact outside of its academic outputs. This work provides an example of how people living with dementia can and should be empowered to participate in all aspects of the research and technology design process. Given the loneliness epidemic, people living with dementia must be provided with new means of enriching their social health to address this global health issue3. This work aims to initiate conversations and inspire innovators and researchers to explore the potential role of VR in enriching social connectedness. As most "off-the-shelf" technologies are not explicitly designed to meet the needs of people living with dementia, this work provides practical design recommendations developed by the end users themselves. VR developers can build on these guidelines to ensure more useable and acceptable technologies for this population. It also highlights the need for policymakers and commercial VR developers to actively involve people living with dementia and their support persons in their work. This may be achieved by inviting people living with dementia and their support persons to form part of an internal advocacy group or creating more significant partnerships with dementia services and existing advocacy groups such as the Irish or European Dementia Working Groups.  
This work aims to provide an understanding of the use of VR for social health, highlighting its relatively new use in this area and the need for further exploration. The Irish Memory Technology Resource Rooms (MTRR) service should understand VR and its application in dementia care. This service provides advice on assistive technology to improve the daily lives of people with memory difficulties. As the public increasingly adopts VR, it may be necessary for MTRR facilitators to know its current state to accurately inform those who inquire about its use. 
This work sought to educate the public on the importance of enriching the social health of people with dementia, which is often overlooked. Over the four years, I have translated this knowledge to my fellow d-real PhD researchers through online workshops and presentations of my work. It has been a privilege for me to bring this knowledge across cohorts as we come from various interdisciplinary backgrounds. This participatory research project aims to tackle the stigma people with dementia often face, whereby they are often considered "technophobes" and incapable of participating in technology design. Presenting my PhD project across interdisciplinary groups aims to shift and re-write ageist and ableist stereotypes surrounding dementia that continue to exist in the research landscape.
In conclusion, my participatory research experience with people with dementia and their support persons has enriched my academic pursuits and deepened my appreciation for looking beyond academic outputs to their social impact. I look forward to applying these lessons in my future endeavours, where I can continue to work towards creating technology solutions with this focus. We must "amplify" the voices of people with dementia and support persons through prolonged engagement from the start of research and technology design processes.
This work was conducted with the financial support of the Science Foundation Ireland Centre for Research Training in Digitally-Enhanced Reality (d-real) under Grant No. 18/CRT/6224.
References 
Flynn, A., Healy, D., Barry, M., Brennan, A., Redfern, S., Houghton, C. & Casey, D. (2022a) Key Stakeholders' Experiences and Perceptions of Virtual Reality for Older Adults Living With Dementia: Systematic Review and Thematic Synthesis.

JMIR Serious Games,

10

,

e37228.

Flynn, A., Barry, M., Qi Koh, W., Reilly, G., Brennan, A., Redfern, S. & Casey, D. (2022b) Introducing and Familiarising Older Adults Living with Dementia and Their Caregivers to Virtual Reality.

International Journal of Environmental Research and Public Health,

19

,

16343.

Koh, W. Q., Heins, P., Flynn, A., Mahmoudi Asl, A., Garcia, L., Malinowsky, C. & Brorsson, A. (2022) Bridging gaps in the design and implementation of socially assistive technologies for dementia care: the role of occupational therapy.

Disability and Rehabilitation: Assistive Technology

,

1-9.
https://d-real.ie/wp-content/uploads/2023/10/blog1.png
400
686
Aisling Flynn
http://d-real.ie/wp-content/uploads/2021/08/d-real-logo.png
Aisling Flynn
2023-10-24 10:44:19
2023-10-24 10:52:30
Enriching Dementia Care Through Virtual Reality (VR): From Research to Social Impact